The hej hej Gift Swap - Vivienne & Steven
We talk to creative souls and father and daughter duo, Steven and Vivienne, about time travel, the weirdest thing they have in common and the linen gift they choose for each other this year.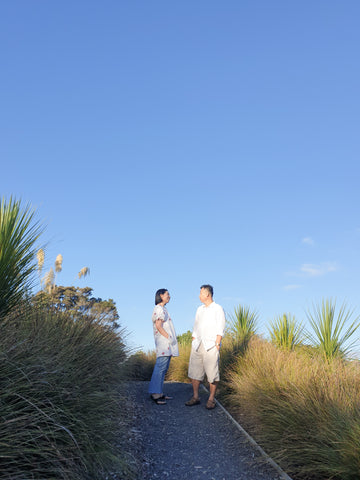 Full Names
Vivienne Jung and Steven Jung 
Introduce each other in one sentence
Vivienne about Steven: He is adventurous, has a creative soul, a poet, and is my biggest supporter. 
Steven about Vivienne: She's clever, artistic and a great painter. I'm a big fan of her.
Vivienne, you gave your dad The Equality Shirt in White. Tell us why you selected this for him?
He enjoys wearing a good white classic shirt which is why I have chosen the Equality Shirt. It is cut in 100% linen making it breathable and comfortable, which are the two key qualities he looks for when finding the perfect shirt. 
Steven, you selected The Baby Cakes Dress in White Daisy for your daughter Vivienne, don't you just love it? Tell us why you loved this for her?
I know that Vivienne loves flowers and anything that is playful and unique. This dress is fun and sweet. I think it suits her well.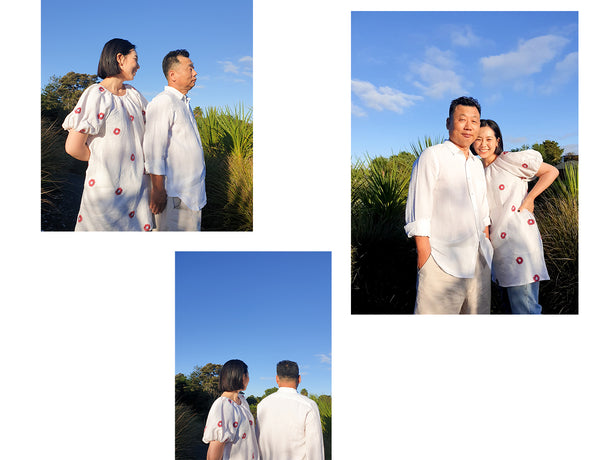 What are you most proud of about each other?
Vivienne: I am proud of how my dad constantly strives to work hard to support us. My parents immigrated to Aotearoa from South Korea and since then they have worked so hard, which I am very grateful for, to be born and raised here in this beautiful land.

Steven: How independent she has grown. She is a hard worker and does her best in every field. 
Vivienne, if you could time travel once, when and where would you go together?
1980's in South Korea, when my parents were University students. I would love to witness all the bizarre and fun stories they told me about, such as the time when Dad served in the military and when Mum did modelling. 
Steven, what's your talent you don't get paid for?
I am a handyman around the house and at work, I can fix pretty much everything - 80% of the time…
What is the weirdest thing you have in common with each other?
Vivienne: My dad and I are the only members of the family that can do the splits. We both love stretching and often randomly do yoga poses throughout the day whether it's at work during lunch break or at home before bed, just because we feel like it. 
Steven, you have three beautiful daughters. What is one piece of advice to fellow fathers-of-daughters?
To let them lead their own pathway and always support whatever decisions they make.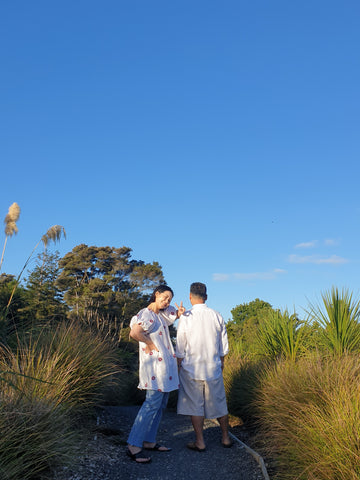 You can meet the lovely Vivienne in real life in-store at our BLOC Store, 20 Normanby Road, Mt Eden, Auckland. 
Photos by Vivienne & Steven