Birds of a Feather in Forest will have hej hej sisters flocking from all corners, with a few favourite features in one darn good shirt. A relaxed fit, real shell buttons, mandarin collar and the best of both worlds with layers on the front and good old simple linen at the back. Like a mullet, but in the same breath - nothing like a mullet.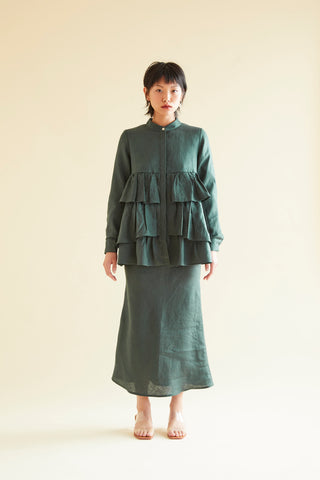 Features
- Relaxed fit that sits just on the hip
- Long sleeve with cuff to seal you in over the cooler months
- Mandarin collar with shell button - a fruity, nautical ensemble
- Two-faced but in a good way, with layers on the front but not the back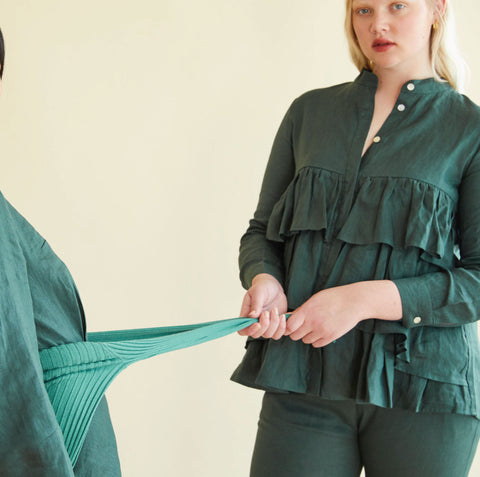 Fit
Crystal wears a Size 6 and is 5'6" (168cm) & Holly wears a Size 12 and is 5'11' (180cm).


Measurements
Length (cm) 6/67.5 8/68 10/68.5 12/69 14/69.5 
Across Shoulder (cm) 6/35.3 8/36 10/37.2 12/38.4 14/39.6 
Across Bust (cm) 6/49.75 8/51 10/53.5 12/56 14/58.5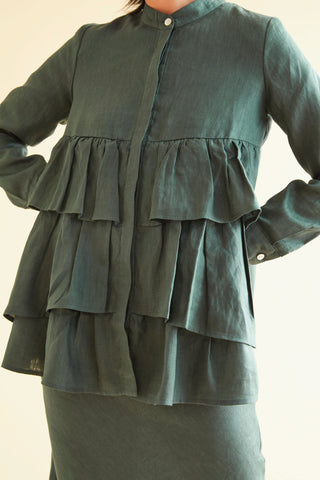 Shipping (NZD)
NZ $8 or free for orders $300+
Aus $30 | World $60